State Elephant of Narshingharh
I've loved this elephant since I saw it for the first time. I particularly liked the servants sitting on a hammac outside the howda. And the Maharaja, that looked SO magnificent. But what had been stopping me was that we already had a Narsingharh Elephant, from the Retainers Review, and I didn't want collectors to think that they had to choose. When that elephant was retired I went for the State Elephant. And I enjoyed making it very very much.
(Click on the images to enlarge)
The elephant of Narsingharh in the Main Procession, marching alone between the two columns. In front of him, Rajgarh and Kolhapur, and Sehr & Mukalla and Patiala behind him. Photo taken by Gertrude Bell, from the stand in front of the Jumma Masjid.
Set 430 - The elephant of Narsingharh, at the Main Procession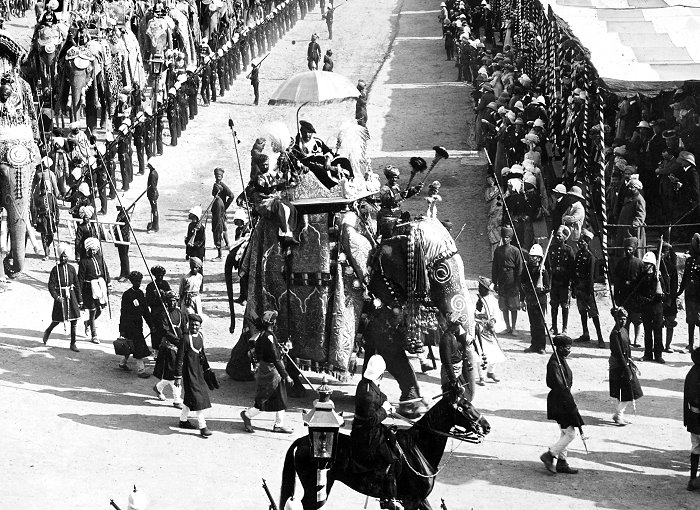 The Narsingharh Elephant, Main Procession
Set 431 - Escort Guards from Narsingharh, group right
The Narsingharh State Elephant at the Retainers Review
Set 432 - Escort Guards from Narsingharh, group left
Set 433 - Musicians and Servants from Narsingharh
The Narsingharh State Elephant passing by the Town Hall
Raja Arjun Singhji (1895-1924)
When Raja Mehtab Singhji died, the government of India selected His Highness Raja Arjun Singhji, aged 9 years, from Bhatkhera and installed him as the Ruler of Narsinghgarh. He was educated at Mayo College Ajmer and Daly College Indore and got training at the Imperial Cadet corps at Dehradun. Raja Arjun Singhji had two wives, first one was Princess Shiv Kunwarji of Sailana.
He had a son Prince Vikram Singhji born in 1909 and two daughters, Princess Damyanti Kumaribai Sahiba married to His Highness Mahrawal Girdhar Singhji of Jaisalmer, Princess Hemant Kumaribai Sahiba married to Raja Digvijaichandji of Jubbal (Himachal Pradesh). From the second wife, who was the Rajkumari of Talsana in Gujarat, he had one daughter Princess Basant Kumaribai Sahiba married to Raja Sumer Singhji of Indargarh (Rajasthan).